Monogramming
Make it personalized with custom monogramming on totes, towels, throws, sheets, pillowcases, shams and robes! You pick your style, your font and your color, we create your own personal one-of-kind piece. Each item is embroidered by skilled stitchers at our headquarters in Pittsfield, Massachusetts.

Frequently Asked Questions

What items can be monogrammed?
Select totes, towels, throws, sheets, pillowcases, shams and robes are available for monogramming.
What is the cost for monogramming?
There is a $15 additional fee for each monogrammed item.

How much additional time will monogramming add to my order?
Please allow up to 5 days lead time for all monogram orders.

Can monogrammed items be returned?
Monogrammed products cannot be returned or exchanged. For details, visit Returns & Exchanges.

How many characters can fit?
Your monogram embroidery can include up to eight characters. Please keep in mind, this character amount includes spaces. For special characters, please call and we'll do our best to accommodate you.

How can I tell if an item can be monogrammed?
If the item is monogrammable, on the product page you will see a button marked "Add Monogram" on its product page, below the "Add to Cart" button.

In what order will my initials appear in my monogram?
When you order monogramming, we'll ask for the initials in the order you would normally write them (first, middle, last). On some traditional monogram styles, the last initial is automatically placed in the middle. You will have a chance to preview your monogram prior to replacing your order -- so you'll see exactly what it will look like in each style.

Do you do monogramming at Annie Selke's store in Lenox, MA?
We do offer monogramming services, but please be advised that it may take up to 10 days for the monogram to be completed for pick-up.

Can I get a custom monogram, like special characters/numbers or a two-line monogram?
Special requests like this are not available online, but may be available by phone. Options will vary by item and style; feel free to call us at (877) 586-4771 for more information.

To see products available for monogramming, please click here.
---


Embroidery Design Options

Pick the embroidery that best matches your own style -- with a variety of styles to choose from, there's a choice for every personality!

NAMES: Upper and/or Lower Case






INITIALS: THREE LETTERS: Upper Case Only





INITIALS: TWO LETTERS: Upper Case Only






NAME: ONE LETTER: Upper Case Only




---


Monogram Character Sizes

Monograms take up approximately the same space on each product, regardless of the number of characters. As a result, the size and presentation varies based on the style you choose and the number of characters. In general, the more you enter, the smaller each one will be.



---
Monogram Placements

These sample images show approximate placement on our monogrammable products.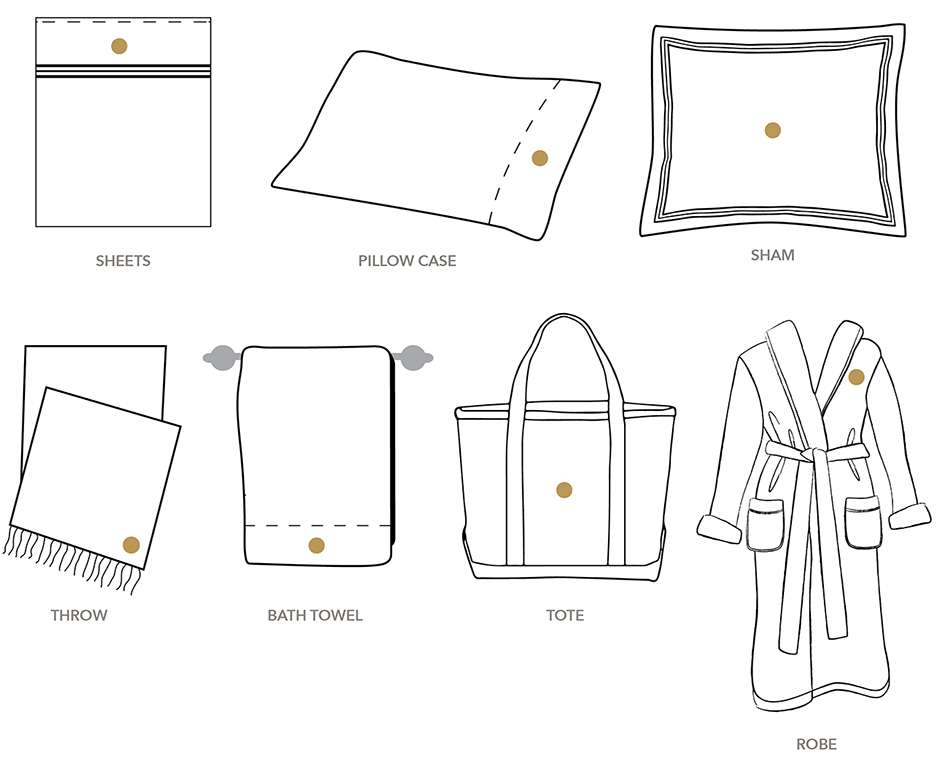 ---


Embroidery Thread Color

Pick the thread color for your personalized monogram from the color grid below. With over a dozen colors to choose from, there's a perfect hue for every 'gram!